Time to celebrate a new year, all over again. This time the Chinese way with the Lunar calendar.
Get into the Lunar New Year mood with food, lantern festivals, dragon parades, Chinese music and dance and, of course, specialty Asian dishes. You are likely to find red envelopes, lunar calendars and zodiac circles reminding diners at Asian restaurants that the Year of the Rat now begins. Because the Zodiac also includes five elements, know that in 2020 the element is metal. Basically, the celebration goes from Jan. 25 to Feb. 11, but some restaurants like to start celebrating earlier and extending the joyful festival later. Observances start the evening prior to the first day. The first Chinese New Year Day begins on the new moon that comes between Jan. 21 and Feb. 20.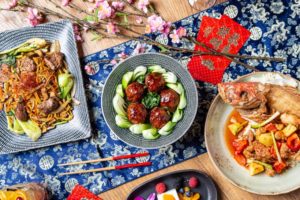 110 W. Illinois Chicago, IL 60654 Phone: 312.644.0500
A "New Asian" restaurant with a menu that fuses the cuisine of cultures on the submerged Sunda Shelf, the dishes echo flavors and favorites from China, Thailand, Japan, Indonesia and the Philippines.
For Chinese New Year, the restaurant will feature Executive chef Louie's modern take on dishes that retain cultural significance. Hong Kong Steak Lo Mein will have longevity noodles to represent long life. Of the Hook whole fish is filleted with head and tail to remind every home to finish what was started for positive results.
Hong Kong Steak Lo Mein made with longevity noodles to represent long life. Off the Hook whole fish special is served filleted with the head and tail as a reminder to finish everything you started with wishes of positive results. Lion's Head Meatballs is for family unity and abundance and Almond Jelly Pudding is for a pure end to the meal. The restaurant will also have Lion Dances and an experiential Kamayan Feast.
For more information and reservations call (312) 644-0500 or visit Sunda.
Shanghai Terrace at Peninsula Chicago
Celebrate with a gourmet Chinese meal at Peninsula Chicago's Shanghai Terrace. Chef de Cuisine Elmo Han does creative renditions of classic Cantonese dishes.
Food plays a key role in Chinese culture,particularly during the Chinese New Year. So from January 24 through 31, 2020, diners can celebrate with an eight-course Chinese menu of authentic favorites. Specialties include a Shanghai Terrace dim sum trio, truffle scallop hot & sour soup, golden shrimp, Australian red abalone, traditional Peking duck, steamed Chilean sea bass in coriander soy sauce, Shanghai Terrace beef tenderloin and green tea crème brulee.Special menu dinners are $168. But the regular á la carte menu is also available.
Otherwise, do a special Chinese New Year Afternoon Tea  in The Lobby restaurant. It features traditional Chinese bites such as Chrysanthemum sesame cookies, pineapple jam golden nugget cookies, mango pudding, salmon tartlet, scallion gougere, golden purse, barbecue pork puff and crab custard. The Chinese New Year Afternoon Tea will be available for $ 115 per person, including a glass of Champagne.
For reservations or more information call +1 (312) 573 6695 or visit [email protected] or see Peninsula/Chicago'Shanghai Terrace. The Peninsula Hotel is at 108 E. Superior St. at Michigan Avenue.
Hing Kee
Make dumplings at Hing Kee Restaurant 2140 South Archer Ave. Sponsored by the Chicago Chinese Cultural Institute, the Chinese New Year dumpling Making dinners are an annual sold out event so try to still snag a ticket to the one that is still coming up: Feb. 1, 2020 at 3:30 p.m. Along with dumpling making, the dinner includes storytelling and Chinese cuisine.
For reservations call (312) 808-9538 or visit HingKeetogo .  For more information  check Choose Chicago/event or Cindy Lee at (312) 842-1988 and [email protected].
(Ed note: the featured photo is courtesy of the Shops at North Bridge on North Michigan Avenue which will celebrate Chinese New Year with special offers.