"The Oscars are LA. the Tonys are New York. But the James Beard Awards are here in Chicago," Mayor Rahm Emanuel told an audience of chefs and food industry moguls, this week.
In an announcement made to a crowded Millennium meeting room at the Cultural Center, Dec. 10, Mayor Emanuel explained that the Chicago choice for the Awards dinner has been extended through 2027. In Chicago since 2015, the Awards dinner was supposed to stay in the city only through 2021, then move.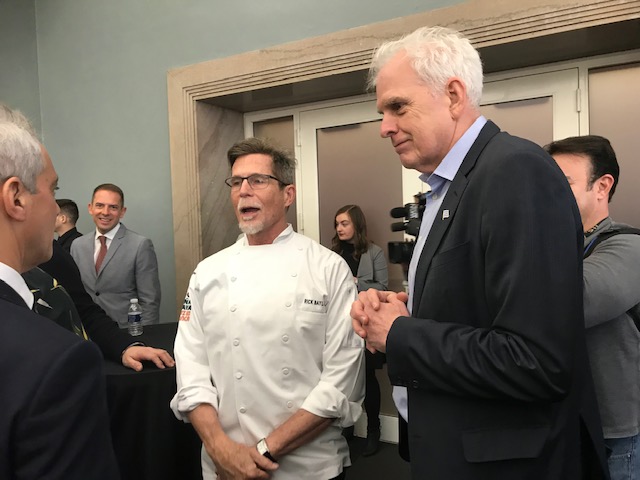 Referring to a common, nose-in-the air New York attitude about culture and food "west of the Hudson," he went on to extol Chicago's restaurant scene and the diverse cultures of its many neighborhoods.
 "The opportunity to host the James Beard Awards for an additional six years is testament to the city of Chicago's reputation as a culinary capital and cultural destination,"he said.
James Beard Foundation CEO Clare Reichenbach referred to the Beard Foundation's mission of "good food for good."
"In addition to the Awards, Chicago is a supporter of the Foundation's broader programming including our women's leadership, sustainability and scholarship initiatives,"Reichenbach said. She added, "This has been and continues to be a highly valued relationship for the Foundation and the industry."
The announcement was co-sponsored by the Illinois Restaurant Association which co-hosts the James Beard Foundation Awards and by Choose Chicago, the city's tourism/marketing organization.